Green is the New Black
Help generate income for Galway Rape Crisis Centre by recycling your unwanted clothing at one of our Recycling Clothes Banks. Whats not to love., its sustainable, environmentally friendly and passive.
Many thanks to our supporters for hosting our recycling clothes banks at the following locations:
Amarillo Stores XL
Elite Service Station
Carrowpeter,
Tuam
Co Galway
H54 XR89
Canavans of Belclare
Carrowntemple,
Belclare
Tuam,
Co Galway
H54 XN50
Elite Service Station,
Airglooney,
Ballygaddy Road,
Tuam,
Co Galway
H54 CC95
Delaneys Mace Headford,
Cloughanover,
Headford,
Co Galway
H91 YR59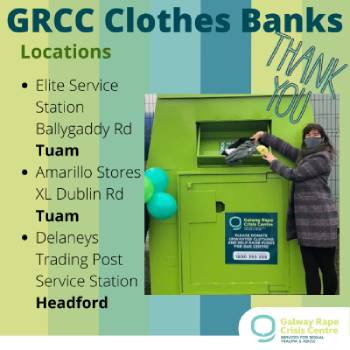 Keep an eye out for the latest editions to our 'Green Family' here.
GRCC are delighted to see the community making use of this facility and supporting GRCC in the process.
If you would like to support us by providing a suitable location for our Recycling Clothes Banks please do get in touch [email protected]
GRCC Recycling Clothes Banks are serviced by Cookstown Textile Recyclers their fully licensed fleet of well-maintained vehicles make regular collections to the textile banks.