Together We Are Stronger.  Together We Are United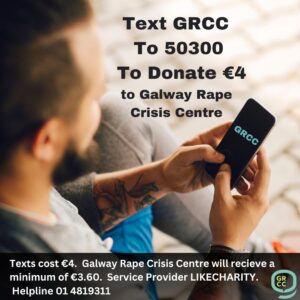 As members of the Galway United senior women's football team, we feel it's fitting to support our local community and the organisations that make it a better place. That's why we are proud Ambassadors for Galway Rape Crisis Centre (GRCC) and delighted to be involved in the launch of their Text Donate Campaign.
GRCC's Text Donate Campaign allows people to make a small donation that can make a big difference.
We believe that it's crucial to provide resources and support to survivors of sexual violence, and the Galway Rape Crisis Centre is doing vital work in this area. GRCC's Text Donate Campaign will help raise funds for counselling services and other vital support services for those in our community affected by sexual abuse and sexual violence.
As athletes, we know the importance of teamwork and coming together to support a common goal, and we're grateful for the opportunity to use our platform to make a difference. Together, we can create a safer, more supportive community for everyone.
Le chéile táimid níos láidre, Le chéile táimid Aontaithe